This morning, I woke up with a fun, catchy song in my head. I was in a good mood, ready to tackle the day, and then I logged onto Facebook. I write this for both authors and readers, because I'd be remiss if I didn't address it on this website. It may end up a bit ranty (there may be profanity, too), but I hope you'll forgive that. Every time this particular topic comes up, it feels like death by a million paper cuts with a bonus lemon juice bath. I hope you'll read it, anyway.
For the sake of not making this go viral, I won't post the image that completely ruined my good mood, but I do want to address the subject of book piracy. Everyone loves a freebie, right? There's no harm in downloading just one book, right? It's just a drop in the bucket for authors who make money hand over fist, anyway, and after all, it's just one book.
The way I see it, piracy happens for one of two reasons: ignorance, or entitlement and apathy. The former is fairly easy to dismantle with just a bit of accurate (if painful) information. The latter, not so much. So let's talk…
---
"But it's just one book. I give away my paperbacks all the time. I paid for it, it's mine. Who the hell are you to tell me what to do with something I paid for?"
---
You'd think the vehemence was exaggerated. It's not. But here's what many people don't know, or consciously realize:
Print books and eBooks are not the same. A printed book is one copy of the product. Very cumbersome to replicate by copying or scanning, and why bother when you can just buy another one fairly cheap? eBooks are digital files–tiny ones at that, just a few kilobytes, all told. It takes two seconds to upload an eBook to a server and make it public. That eBook will live there forever and can be downloaded countless times by countless people, all of whom will have the ability to send a copy on to countless other people without losing access to the original. Printed books have a shelf life. eBooks don't. That means there is literally no limit to how many people can get illegal copies them.
Here's what that means for the author: Hundreds and thousands, sometimes tens of thousands of dollars of lost royalties. In many cases, that's a full-time income the author has just lost. Literally, a livelihood stolen right out from under them. And no, I am not exaggerating. In recent years, I have lost count of the number of authors I have seen hang up their writing hats because they just can't afford it anymore. Many of them had to go back to seeking full time jobs, which is never easy, especially after you've been out of the workforce for a while.
To a reader just looking to pass the time, that one eBook is a few hours of entertainment. To its author, it's hundreds of hours of work, not just writing it, but promoting it as well. It's an on-going, full time job. Yes, we do it for the love of writing–for ourselves. But when we share it with the world, it becomes a product. It costs money to put it out there, and it needs to generate revenue, or it's not worth continuing.
---
"How is it entitlement if I just want to read and can't afford the books?? You should be grateful someone reads your books at all."
---
I'm going to pause here for a moment to take a deep breath and master my emotions. Okay. First of all, that is the definition of entitlement. You can't afford it? But authors should be able to afford to give away their livelihoods for free? You can't afford it, so it's okay to steal? No. It's not okay. I'm sorry for your personal circumstances that prevent you from being able to buy a book you really, really want to read, but that does not make it okay for you to steal a copy. There are these things called libraries where they actually make books available for free. They buy them on your behalf, so the author doesn't have to skip a meal, and then loan them to you for a time so you can enjoy the stories without having to shell out a dime. There are these things called book sales where authors make their books available at a much lower cost, or even free, where you can grab a copy totally guilt-free.
It just so happens, I currently have one of these floating around: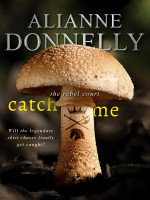 Catch Me is FREE at Smashwords until 7.31.2018, so feel free to check it out. Click the title, or the image to go directly to the Smashwords product page. If you feel adventurous, book 2 of this series is also discounted until the end of July.
See how this works? I, the author, make this book available to the reader and invite them to download from a legitimate bookseller. I'm far from the only one. All you have to do is go to Smashwords, set your filter to FREE and you'll find hundreds, thousands of free titles right there for your enjoyment.
"How's that any different?" you ask. Here's how:
When a library purchases a book, it's a sale for the author. They get paid for that. When they discount their own book, it's their choice as a marketing strategy. Even free downloads (if they're legitimate) can help an author's career. Those downloads are tracked; they affect the book's ratings and visibility. The higher it is on the ranking list, the higher the chance others will want to buy a copy, and authors get paid for that, too. Pirate sites, on the other hand, do none of that. They're basically a black hole of nothing for the author.
As for being grateful, please excuse the profanity, but in this case, there is really no other way I know to reply, except to say, "Fuck you." That is all the answer you deserve for even thinking something like that about an author who puts their heart and soul into a book, much less saying it aloud, to their face. So, at the risk of being redundant, I say again: Fuck. You.
---
"I just want to check out the author first to see if I like them. I don't want to shell out money on a no-name and end up hating the book. I'll buy a legit copy if I like it!"
---
It may surprise you to hear this, but this is not actually a valid reason for pirating a book. Authors and stores go to great lengths to give you every opportunity to check out a book before you buy. If you don't look at the sample, that's on you. That's you deliberately choosing to turn a blind eye to the legitimate option in favor of piracy. It may also surprise you to hear that those "no-name" authors you are so eager to sample are the ones who are hurt by piracy the most, because they depend on their royalty income the most. They don't have a solid readership to keep them afloat, or side income from book merch, or movie or TV series rights. They literally depend on every single penny they get from royalties.
It may seem innocent, but this is just another form of entitlement. "I should be able to read it first and then decide if it's worth paying for." Well, no. The very fact that you do want to read it first means it's worth paying for. You don't go to a restaurant and say, "Serve me first, and if I like it, I'll pay for my meal." You don't go to a store and say, "Let me wear this T-shirt for a few weeks, and then I'll decide whether it's worth paying for." For that matter, no movie theater in the world will let you in to watch a movie without buying a ticket first. eBooks are no different. If you pirate one, no matter how you justify your decision to do so, you are stealing. You are supporting a system that robs authors blind. There is nothing you can say that will ever make that acceptable.
---
"Holy crap, this is really awful! I hate that my favorite authors have to go through this. How can I help?"
---
Now that is the right response. 🙂 Thank you. I mean that sincerely. You'd be surprised how good it is to hear that someone out there actually cares, and even wants to help. If you really want to help your favorite authors, buy their books. That's all. Don't look for them on pirate sites. If you happen across one, or someone sharing a link to one, report the person and tell the author. It's not easy, but there are steps authors can take to curb piracy–if they know about it. Tell people about your favorite books and when you do, tell them where they can be bought. Share with your friends when you see an author has a sale or promotion going on. It helps both the author, and the readers who might otherwise balk at paying full price.
Authors are not unsympathetic, believe me. Many of them will go to great lengths to get books into the hands of their struggling readers. But please realize we're human, too. We have families, and mortgages, and medical bills, and this is not a hobby. It's our job. We work at it non-stop, without breaks, vacations, and often times without support or encouragement. We do our jobs well, and we shouldn't have to justify our need to get paid for it.
Thank you for your time.